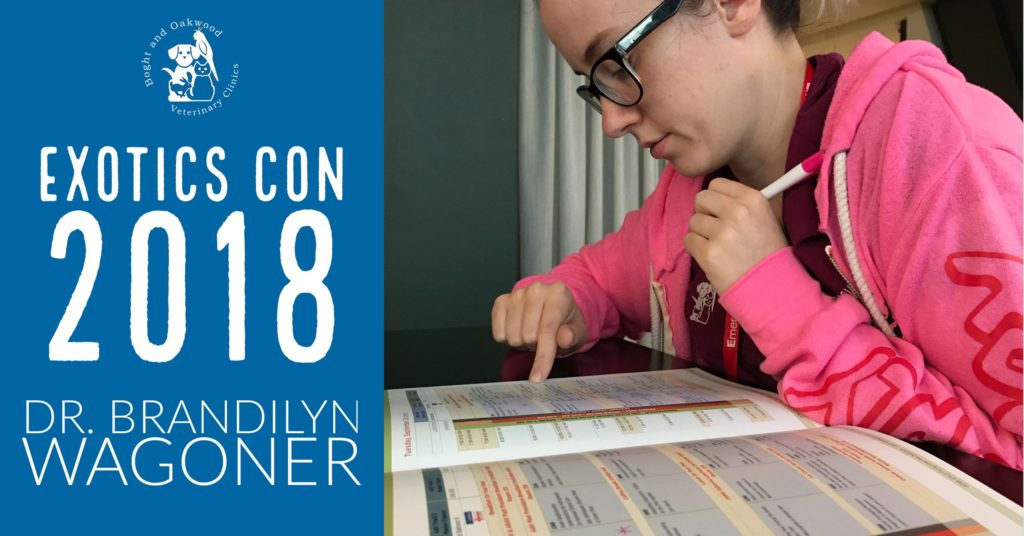 Last month the Boght & Oakwood Veterinary Clinics sent Dr. Brandilyn Wagoner to Atlanta, Georgia for ExoticsCon 2018! Organized by the Association of Avian Veterinarians (AAV), the Association of Exotic Mammal Veterinarians (AEMV) and the Association of Reptilian and Amphibian Veterinarians (ARAV), it is said to be the largest conference of its kind in the world. For 5 days attendees come to learn more about how to care for their exotic patients.  Reptiles, birds, and small mammals such as hedgehogs, sugar gliders, and ferrets are all considered exotic pets.  The conference was attended by more than one thousand veterinary professionals and facilitated by lecturers from around the world.
Dr. Wagoner was able to participate in hands-on trainings as well as attend lectures pertaining to her areas of interest.  She worked on perfecting her bird handling in Low-Stress Avian Handling Techniques and learned new surgery skills in How to Intubate Almost Any Exotic Companion Animal.  Did you know that many small mammals including rabbits have a large tongue, large molars, a small larynx, and a soft palate? This makes it very difficult to intubate these animals without video assistance. The skills she practiced in this session will help her medicate our small mammal pets better.
She also attended a workshop titled What Parrots Want, where she learned about enrichment for pet birds to keep them happy and healthy. Enrichment can have a number of medical and emotional benefits. It includes social, cognitive, physical, sensory, and nutritional/foraging enrichment. She also attended lectures to learn more about wildlife care and rehabilitation to increase her knowledge in this field. There was even a lecture on using kitchen tupperware to keep shell injuries dry in turtles.
When not in lecture, she was able to see some of the sites from the Atlanta area including SunTrust Field, where the Atlanta Braves play baseball.  She did some shopping at the Ponce City Market, an old manufacturing complex repurposed into shops and restaurants. There was a great day spent at Zoo Atlanta visiting the silverback gorillas and pandas!